TAILORMADE
WEALTH MANAGEMENT SOLUTION
With ADDFIN WEALTH, professional investors like independent asset managers benefit from a unique, web-based information and transaction platform that enables them to deal with the current and future challenges in a safe, efficient and client-focused way

The Addfin Application an intuitive web-based service solution, that is specially designed for professional investors, that expect an institutional standard though their entire investment and working process.

Addfin Service supports the professional investors in the management and implementation of the daily workflow. Parts or the entire work process from the front-, middle- and backoffice can be delegated and outsourced to Addfin Service.

Addfin Academy delivers profound, up-to-date knowledge transfer that professional investors need in this dynamic environment. The topics include coverage of compliance and investment issues plus related areas such as legal or economic interests.
Solution for wealth managers
We deliver tools, services and training
Solutions for family offices
Advanced CRM solutions to track more than only wealth relationships
Financial Information
We offer you financial information from SIX Financial Information and FUNDINFO
Financial Training
We offer financial training for todays wealth managers
Security
All our sevices can be hosted on-premise. We offer different possibilities and levels of hosting and security. You data secure!
Become efficient with ADDFIN WEALTH

ADDFIN Wealth, the new digital private banking solution.
Helps you manage your office, your clients and grow your business, taking care of compliance out of the box.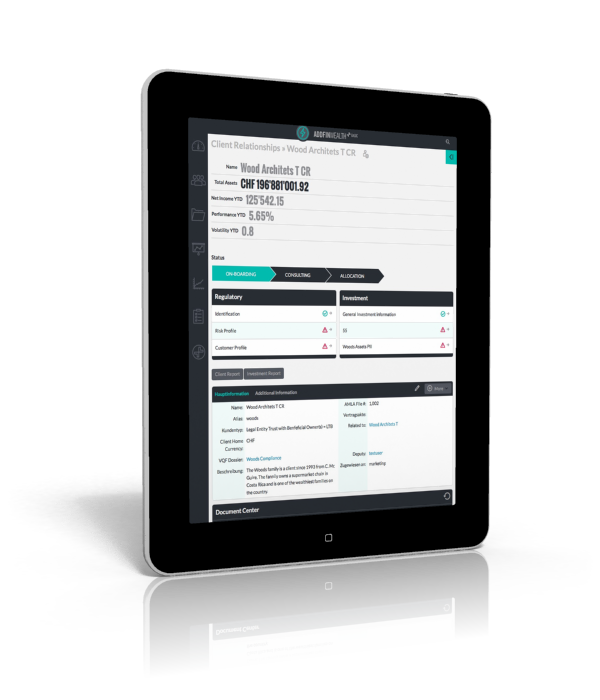 Main features
CRM & Sales support

Legal and regulatory compliant
Research & Investment information
strategy-selection through Institutional standards
Portfolio Simulations
Benchmarking
Trading list
Connections to external portfolios

Compliance

Identification
Risk-profiling
Compliance – Checklists
Compliance Workflows
Compliance Documentation
PEP Check / PIB Informationen
Automated generation of compliance forms and reports
Audit-Tracking (change-log)

Portfolio Management

Banking-interfaces
Consolidation
Transactionlists
Fee-transparency
Reporting
Portfolio simulation
Benchmarking
Finance feeds

Financial Information

FundInfo documentation
SIX FInancial Information

Products
Indexes
Currencies